2017 HO Sydnicate VTR Water ski Mens High end Course Ski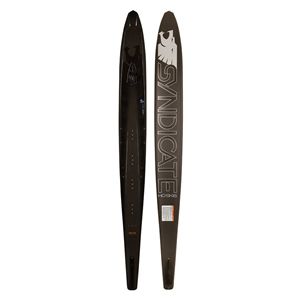 2017 HO Sydnicate VTR Water ski Mens High end Course Ski
HO Syndicate VTX Water Ski 2017

Once again, HO's commitment to high end slalom skiers is clearly evident with the all new 2017 HO Syndicate VTX!
The VTX is a completely innovative new shape unlike any waterskis currently in the industry. You'll notice the binding spine designed to add the new 2017 Syndicate hardshells.

Try the HO VTX today and experience clean Edge Technology, increased acceleration and decreased load. Step into the HO VTX and see how good you can get.


SINGLE RADIUS ROCKER
The VTX employs a long smooth rockerline designed to give skiers a much more stable and forgiving feel throughout edge changes. With no true flat spot, the VTX allows for less sticking points in the turn and casts out evenly and consistently onside and off.
A1 WIDTH PROFILE
Years after its release, the Syndicate A1 is widely known as the best shaped ski of the modern era due to its perfect combination of balance, stability and maneuverability. For 2017, we've re-employed this shape, with its very large sweet spot, giving skiers the proven battle-tested width profile that's become so beloved.
46 DEGREE BEVEL ANGLE
Increased bevel angle allow the ski to roll on edge and turn like a narrow ski with the speed & stability of a wide ski, giving you the best of both worlds.

Bob LaPoint Design - Shaped by Waterski Design Legend and 5-time World Champion/5-time World Record Holder

Clean Edge Tail - From the heel of the back foot through the tail for added efficiency by reducing drag by 50%

Binding Spine – Minimized material underfoot to maximize torsional and longitudinal flex for increased angle

Single Radius Rocker – long, smooth

rocker-line

for a progressive and forgiving feel throughout edge-changes.

A1 Width Profile – Revisited A1 shape, beloved by many for its large sweet spot and mix of balance and maneuverability

46 degree Bevel Angle – Rolls on edge and turns like a narrow ski with the speed & stability of a wide ski

Carbon Fiber Speed Skin: Advanced laminar textured ski base to reduce ski drag/increase speed, with 20% less

ski

weight!

Stability Tuning/Vibration Dampening System - strategically located tip weight with an elastomer damping pad, dampens the natural frequency of the ski's shovel for increased stability

Superlite Construction: a proprietary combination of aerospace carbon fiber and Superlite Core Technology

Handmade in Seattle, Washington, USA
SKI SIZE / WEIGHTS

| | |
| --- | --- |
| 65" | 110 -140 LBS |
| 66" | 140- 170 LBS |
| 67" | 170-200 LBS |
| 68" | Over 200 LBS |
2017 Syndicate Collection by HO Skis from HO Skis.