2018 Connelly Bad Habit Wakesurf Board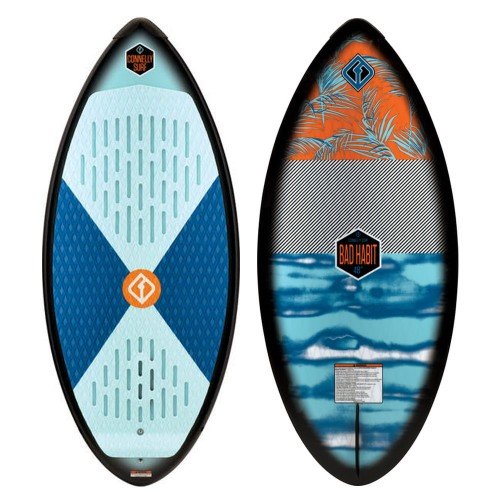 2018 Connelly Bad Habit Wakesurf Board
Details
Now in its second year, the Bad Habit is Connelly's premier skim shape. Like any other bad habit, this board is near impossible to put down once you've tried it.
The Bad Habit is a skim shape designed for the magicians on the water with their bag of tricks. From spins to airs, the Connelly Bad Habit can do it all.
A true skim shape, the Bad Habit has a flat, featureless base for maximum top-end speed and the best possible connection between the rider and the water. The low profile edge rail is perfect for those huge airs or scooping shuvits on the reg. A full length layer of vector net adds extra strength and rigidity to the board for the big landings that occur after boosting a monstrous air. The twin-ish outline allows it to be rode both regular and switch for those more advanced skim tricks.
The Bad Habit is a compression molded board, making it more durable than many other high-performance skim style boards. Adding the entire layer of vector net gives it added strength and responsiveness. A single 1" center skim fin creates a loose skate-like feel that skim style boards are known for.
CWB Bad Habit Features
-Skim Style Design
-Compression Construction
-Polyurethane Resin Core
-Full Vector Net Base
-Single 1" Center Fin
-1 Piece Grip-Lite EVA PAD