2018 Connelly Bentley Wakesurf Board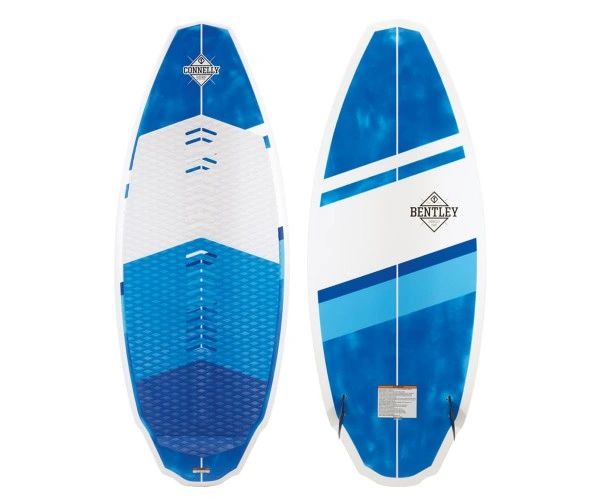 2018 Connelly Bentley Wakesurf Board
Details
There is not a better performing board at this price. The Connelly Bentley delivers high-end surf performance at a great value, making this board a huge hit with wakesurfers everywhere.
The Connelly Bentley is a best seller each and every summer because for the money, there is not a better bang for your buck when it comes to buying a new wakesurf board. At entry-level price point, the Bentley rides on the water as well as many boards that are nearly twice its cost.
This board has very predictable feel behind the boat that will help beginner/intermediate riders feel confident the moment they start riding it. For the more aggressive riders onboard, the Bentley has the high-performance characteristics for stylish turns and slashes on the wave.
Look at the bottom of the board and you will see the minimal rocker line, this helps create quick acceleration and serious top-end speed. A blunted nose design prevents the board from dipping its nose. The tapered tail helps it to sit lower in the water, allowing it to track through the water easier. A long sidecut radius allows for tighter turns and increased maneuverability.
Built just like an ocean surfboard, the Bentley is constructed with an eps foam core and glass layup. This reduces the overall weight of the board and creates a reactive ride that moves as you do. Equipped with two 3.6" fins, riders have all the grip and hold needed to attack the wave while being able to break the fins free for spins and slashes.
Want a great board? Don't want to break the bank for one? The Connelly Bentley packs serious value into a fun skim/surf hybrid shape that will leave you smiling from ear to ear.
Connelly Bentley Features
-Skim/Surf Hybrid Design
-Epoxy Construction
-One Piece EVA Traction Pad
-Twin 3.6" Fin Setup