2018 Connelly Habit Wakesurf Board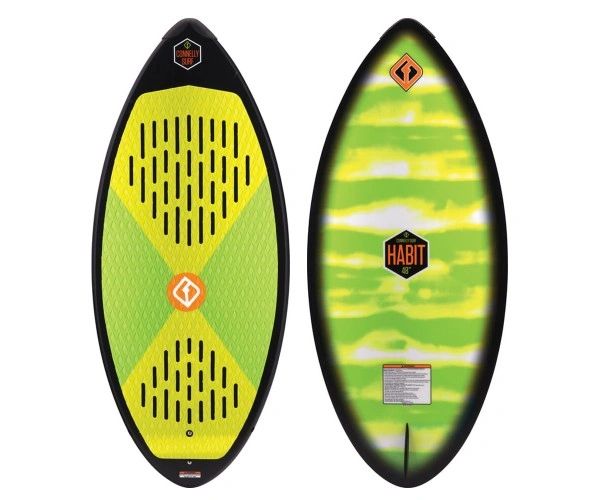 2018 Connelly Habit Wakesurf Board
Details
After making a huge splash last summer, the Habit is back again and better than before. A fast reacting, skate-like feel, this skim style board makes it easy to break free for spins and all sorts of tricks.
The Habit was welcomed with open arms by wakesurfers everywhere after its debut last summer. Built for skilled technical riders or those who enjoy a looser feel on the water, this skim style board is a speedy, skatey ride on the endless wave.
Look at the bottom of the board. It has basically zero features besides the center skim fin. While appearing very basic, this helps to create impressive top-end speed, quick acceleration, and the ability to break the board free for easy spins. A thinner profile gives the rider more feel between them and the water. A flat rocker line allows you to float back farther on the wave and zip down the line back into the wave's sweet spot.
A compression molded board, the Habit is built similar to how a wakeboard is built. While heavier than boards with a traditional surf construction, a compression molded board is far more durable and able to withstand its heavy use without dinging or cracking. The single 1" center skim fin gives riders a looser feel that will easily break free for spins, shuvits, and more. The Connelly Habit has an EVA traction pad that covers the entire top deck, giving the rider the ability to plant their feet anywhere on the board and have grip after landing an air.
The Connelly Habit is a sure fire hit for those that enjoy spinning 360's during their surf session.
CWB Habit Features
-Skim Style Design
-Compression Construction
-Polyurethane Resin Core
-One Piece Grip-Lite EVA Traction Pad
-1" Center Skim Fin