Byerly Misfit Wakesurf Board 4.6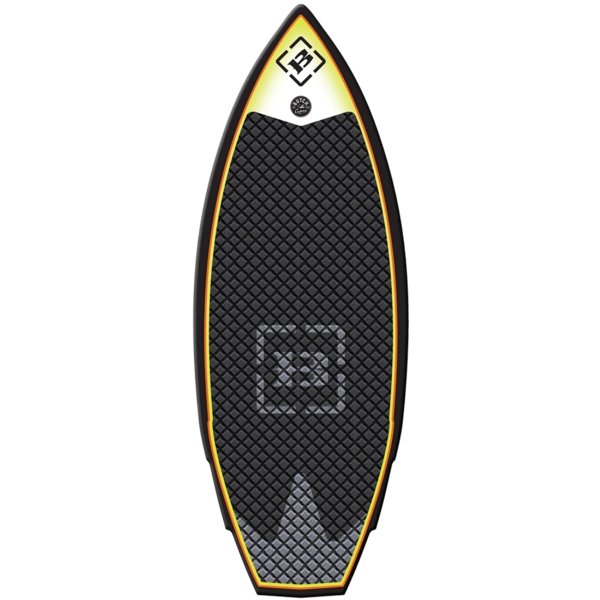 Byerly Misfit Wakesurf Board 4.6
Details Byerly Misfit Wakesurf Board 4.6
When Scott Byerly and Shaper Scott Bouchard team up to design a new surfer, you know it's going to be good. A new addition to the Byerly lineup for 2018, the Misfit is a pure surf style board that is quick, responsive, and full of energy.
Scott Byerly and shaper Scott Bouchard continue to team up to shape boards that forever change wakeboarding and wakesurfing. Their newest collaboration project: the Byerly Misfit. Taking Byerly's unmatched passion for everything wake and Bouchard's impressive shaping skills, the duo worked together to create an innovative surf style shape that is faster and more responsive than any wakesurfer Byerly Boards has ever made.
The EPS foam core gives it the lightweight, responsive feel of a high-end surfboard while the full carbon dura shell construction gives it unmatched durability. The seamless rail finish helps it to grip into the wave for controlled, stylish turns. A centerline carbon stringer adds rigidity through the belly of the. A machined EVA traction pad throughout the entire top deck ensures your feet will have ample grip no matter where you place them.
Equipped with five Futures Fin Boxes, each rider can customize the fin setup to tailor to their style of riding. This versatility is a huge hit among those who will have multiple people riding the same board.
Byerly Misfit Features
-Full Carbon Durashell+ Construction
-EPS Core
-Seamless Rail Finish
-Single Concave Base Contour
-Machined EVA Traction Pad
-Lap Construction
-Layered Glass