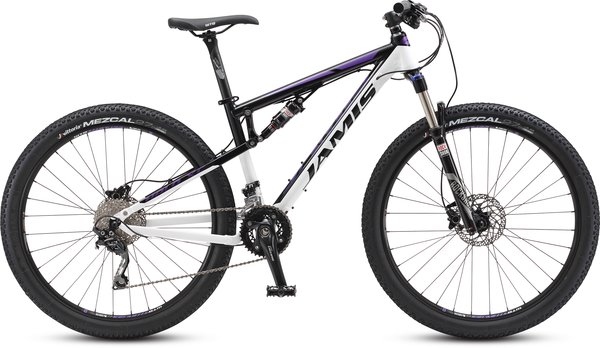 Jamis HALO XC
HALO XC
XC MP2 Suspension
The mp2 suspension system is active with a near vertical wheel axle travel path, plus excellent lateral & torsional stiffness for rear wheel tracking precision.
Asymmetrical Chainstays
The XC's chainstays are asymmetrical, with an elevated straight stay on the non-drive side and a dropped curved stay on the drive side. The drive side must be dropped & curved to clear the front derailleur and chain, but running the non-drive side straight from the dropout to BB pivot reduces weight while significantly stiffening the rear triangle laterally. There's more tire clearance, too.
Rock Shox Suspension
The Dakar XC features a Monarch R shock that offers adjustable rebound damping and a single valve air spring . It's light and easily adjusted to suit rider and riding style.
Tapered Head Tube
Riding fast with control requires steering precision, which starts with the front of the bike. Stiffening this area results in less wheel deflection, more wheel control. A tapered 1 1 /8" to 1 1 /2" head tube serves up a significant increase in rough terrain tracking and stability without much of a weight penalty compared to standard 1 1 /8" systems.
STOPPING POWER
Top-notch braking shouldn't break the bank. Shimano's M365 hydraulic brakes offer the power, the smooth modulation and all-day, all-conditions reliability.
Solid Parts Performance
The XC offers robust components chosen to ensure durable and consistent performance on every ride. This includes 100mm travel forks with 30mm stanchions, disc brakes, disc-specific rims, platform pedals and 31.8mm over-sized bars and stems.
TUBELESS
Benefits of a tubeless set-up are reduced rotating weight and the ability to use lower inflation pressures for greater traction without the risk of pinch flats. WTB TCS rims feature a tubeless UST "On-Ramp" profile providing a consistent fit between the rim and the tire for easy installation and inflation.